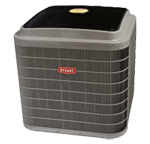 Air conditioners may look similar, but their Seasonal Energy Efficiency Rating (SEER) can vary widely. Higher SEER numbers save more money spent on electricity. A 13 SEER air conditioner, the EPA "current minimum standard", uses 23% less energy than a 10 SEER unit (EPA standard up until Jan. 2006). Even though 13 SEER is the minimum efficiency available, we currently offer a line of air conditioners that start at 13 SEER and go all the way up to a 21 SEER. Depending on your average usage, higher SEER air conditioners can significantly reduce your electric bill.
Additionally, we offer many air conditioners that have advanced features, such as 2-stage compressors and variable speed fan operation. These features not only improve the comfort level of your home, but can provide additional energy savings as well.
Bryant Air Conditioning Product Offering
Bryant Air Conditioning Product Offering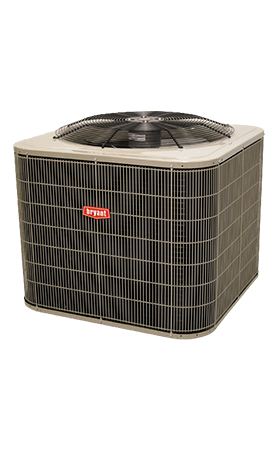 Legacy™ Line Air Conditioner
View Brochure
Model Family: 113A
Efficiency SEER: 13 SEER
Efficiency SEER2:
Efficiency EER: 11 EER
Efficiency EER2:
Energy Star Rated: N/A
Sound Level: As low as 72 dB
Refrigerant Type: Puron®
Compressor: Single-stage scroll compressor
Factory Warranty Parts: 10-year parts limited warranty when properly registered.
Factory Warranty Compressor: 10-year compressor limited warranty when properly registered.
Manufacturer's Stated Benefits:
DuraGuard™ protection system
Can be Energy Star rated is some combinations.
Enjoy energy savings, remote access capability and in-depth energy reporting with the Bryant Housewise™ Wi-Fi® thermos
Payne Air Conditioning Product Offering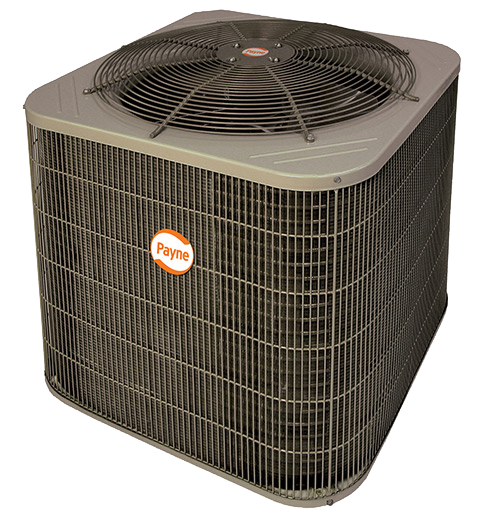 Central Air Conditioner 16
View Brochure
Model Family: PA16NA
Efficiency SEER: Up to 17 SEER
Efficiency SEER2:
Efficiency EER: 12 EER
Efficiency EER2:
Energy Star Rated: ENERGY STAR®
Sound Level: As low as 76 decibels
Refrigerant Type: R-410A
Compressor: Single Stage Compressor
Factory Warranty Parts: 10-Year Parts Limited Warranty if registered in 90 days
Factory Warranty Compressor: 10 Year limited Warranty on Compressor
Manufacturer's Stated Benefits:
Durably built with tight wire grille to withstand bad weather and debris
Designed for corrosion resistance and lasting performance
Single-speed fan motor
System protecting high- and low-pressure switches and filter drier
Durable, protective tight wire grille panels allow easy coil cleaning
Galvanized steel cabinet that includes a weather protiective paint for durability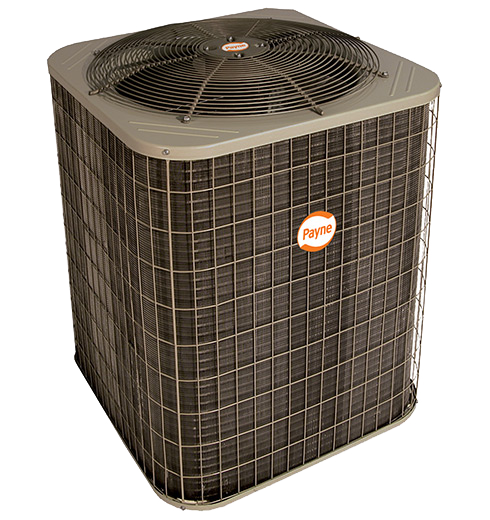 Central Air Conditioner 13
View Brochure
Model Family: PA13NA
Efficiency SEER: 13 SEER
Efficiency SEER2:
Efficiency EER: 11 EER
Efficiency EER2:
Energy Star Rated: N/A
Sound Level: As low as 74 decibels
Refrigerant Type: R-410A
Compressor: Single Stage Compressor
Factory Warranty Parts: 10-Year Parts Limited Warranty if registered in 90 days
Factory Warranty Compressor: 10 Year limited Warranty on Compressor
Manufacturer's Stated Benefits:
Durably built with tight wire grille to withstand bad weather and debris
Designed for corrosion resistance and lasting performance
Single-speed fan motor
System protecting high- and low-pressure switches and filter drier
Durable, protective tight wire grille panels allow easy coil cleaning
Galvanized steel cabinet that includes a weather protiective paint for durability